GBEGE HAPPUN; As 28 Pipol Die Inside Explosion For Turkish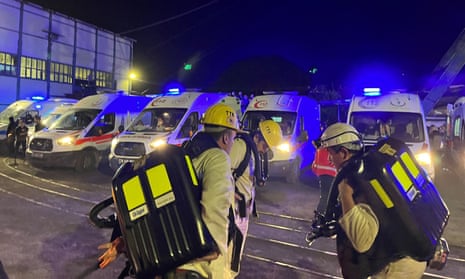 At least 28 pipol don change address go heaven and dozens still dey lament underground afta explosion happun for coal mine for di Bartinprovince inside northern Turkey
Around 110 pipol bin dey inside di mine wen e explode on Friday, almost half of di number bin dey ova 300metres deep.
Oga patapata for health mata Fahrettin Koca yan say dem don rescue 11 pipol and dem dey kollet treatment like dis like dis.
U FIT ALSO READ
Emergency crews bin work overnight, as dem dey dig rocks to see if dem go still fit save some pipul.
One video bin show say di miners dey comot with black sot all ova dia bodi and dia eyes as di rescuers follow dem for di facility for Amasra for di Black Sea coast.
Family and friends self don show for di mine area as dem dey wait to get informate from dia loved ones.
Di explosion bin happun 300m underground. Naa about 49 pipol bin dey work for di area between 300 and 350m (985 to 1,150ft) underground,
According to di oga patapata for interior mata for di kontri Suleyman bin yan tori pipol say, "pipol dey wey we no fit comot from dat area and dem neva know wetin cause di explosion"
But him don yan pipol say make dem no worri say investigation dey go on
Oga patapata for energy mata for di kontri self chuk mout yan say na firedamp na him go cause di explosion,