Wetin Obasanjo, Tinubu talk during close door meeting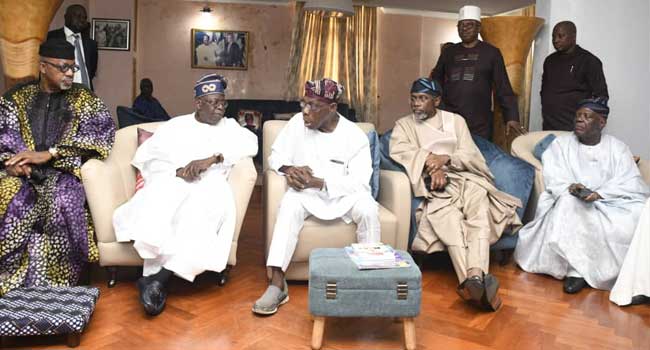 Honorable Speaker of the house of Representative don yarn wetin really happen inside the close door meeting for Abeokuta during meeting with the before before President Olusegun Obasanjo.
Even when many people no believe say APC Presidential candidate Asiwaju Bola Ahmed Tinubu fit go meet Baba OBJ on say, the two don talk bad bad thing about each other in the past. Yet, Tinubu visit shock many, as crowd gathered to welcome him to Abeokuta even when dem talk say nah secrete meeting wey dem no too make known to public.
You go like read this trending article: A Healthy lifestyle Practices
During Surulere Local Government Area (LGA) APC meeting in Surulere, Lagos, speaker of the House of Representative Gbajabiamila, who dey for the closed-door meeting between Obasanjo and Tinubu on Wednesday, in Abeokuta, yarn say Tinubu's presidency is almost a reality.
Baba Obasanjo talk well, and he also pray for Asiwaju Bola Ahmed Tinubu.
The full tori tanda berekete inside Tribune online…..you go like read the full tori, click the read more button READ MORE