Police don arrest criminals,suspected INEC official killers inside Anambra state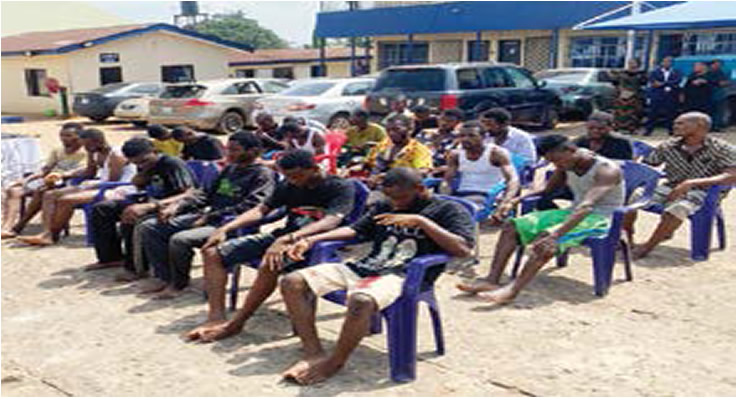 Commissioner of Police, Anambra State, Echeng Echeng, on Friday don arrest 20 suspects wen bin dey in connection with many crimes inside di state.
Some of di suspects name na, Nwobodo Obumneme, Malachi Uzorchukwu and Ifesinachi Ogechukwu, according to tori those suspects dey in connection with di killing of Independent National Electoral Commission (INEC) official inside di state,wen hin name bi Mr Osita Duruoha.
U FIT ALSO READ Ogun accident,four pipol don kpai
.Di 26-year-old Obumneme yarn tori pipol say dia gang kill Duruoha becos say dem wan collect di shuttle bus wen dey hin hand.
Bifore tori reach pipol say Duruoha don kpai, na miss dem say hin miss bifore on di month of September, but eey later find hin dead bodi near roadside, for Isuaniocha community for Awka North Local Government Area of di state.
According to confession, Obumneme confess say,"dem bin hire hin shuttle bus wen take dem to Urum from Ifite; hin tok say dia plan na to collect di bus from am and run comot
But wen dey see say he fit wan use strong head with dem,dey con see say di best thing na to kill am so dat dem go fit carry di bus waka.
Anoda tori of Ekenedilichukwu Okeke, yarn yarn tori pipol say hin kill hin stepmother, Theresa Okeke, becos say she refuse to give am N1m for hin school fees.
Ekene tok say hin beg her her,and she bin agree to give her di money but she later change her mind. So, hin no get choice say make hin arrange some of hin friends to act like thieve to collect di money from her
.Di Commissioner of Police, Echeng, yarn tori pipol say dem go charge di suspect go to court.join four suspected wen go thieve eleectrical equipment..
To read di full tori CLICKHERE