Qatar 2022: Messi, don show himself again as di GOAT against Mexico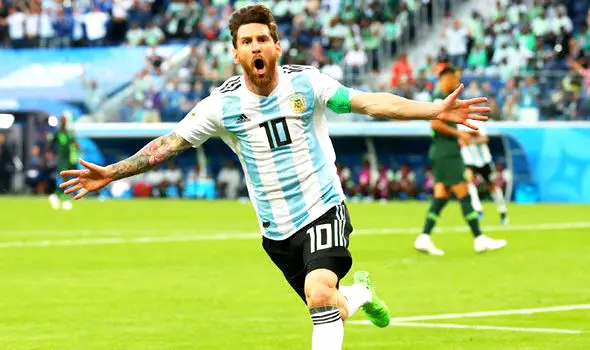 Lionel Messi and Enzo Fernandez score one kind beta goal on Saturday night as Argentina beat Mexico 2-0 to give dia countri and fans hope say dem go qualify for di round of 16 inside di ongoing World Cup for Qatar.
Argentina need to win di match to give dem assurance say dem go qualify for round of 16.but assuming say dem go loose di match, just like di way dem bin loose to Saudi Arabia 1-2 for dia opening match,automatic na to carry dia bag and load comot for Qatar straight back to Argentina.
U FIT ALSO READ Qatar World Cup: Ban on alcoholic drinks no dey necessary – Orji Kalu
Di two team for first-half play sote nobody readi to open hin yash for goal to ener hin net. but after a lot of kurukere waka of Messi on top di pitch for first-half hin no see goal at all, but wen dey come back from halftime for 64 minutes hin sama beta goal give Argentina to put dem on di lead.
Na Angel Di Maria na hin pass di ball to Messi, and with di experience wen messi bin get as senior man na so hin collect di ball arrange am well well with beta shot from hin left leg straight to di net of di Mexicans.
Fernandez self face show and at di same time hin shoe shine as hin score di second goal give Argentina to give dia fans full assurance say round of 16, we move.
Messi bin di GOAT with determination dribble some of Mexico defender well well con give final pass to Fernandez, and Fernandez self show say hin na pukin way mama born finish with sense sama beta goal into di net of di Mexicans to make Argentina win with 2-0 against Mexicos
To read di full tori CLICKHERE